Rema Beefing with DMW crew
Doris, 4 weeks ago
0
3 min

read
37
Rema has been reportedly been disrespected at the BBNaija Lockdown finale that saw Laycon win.
On September 25, 2020, the young Nigerian star, Rema took to his Twitter for a Kanye West-Esque rant. While he tweeted about a lot of things including his haters, detractors, stealing a laptop, losing his brother and so forth, he spoke an important truth.
Follow us at our social media handles; Facebook, Twitter, and Instagram.
We went through some of the tweet he posted that had his fans going wild and asking what is going on.
See what Rema posted below: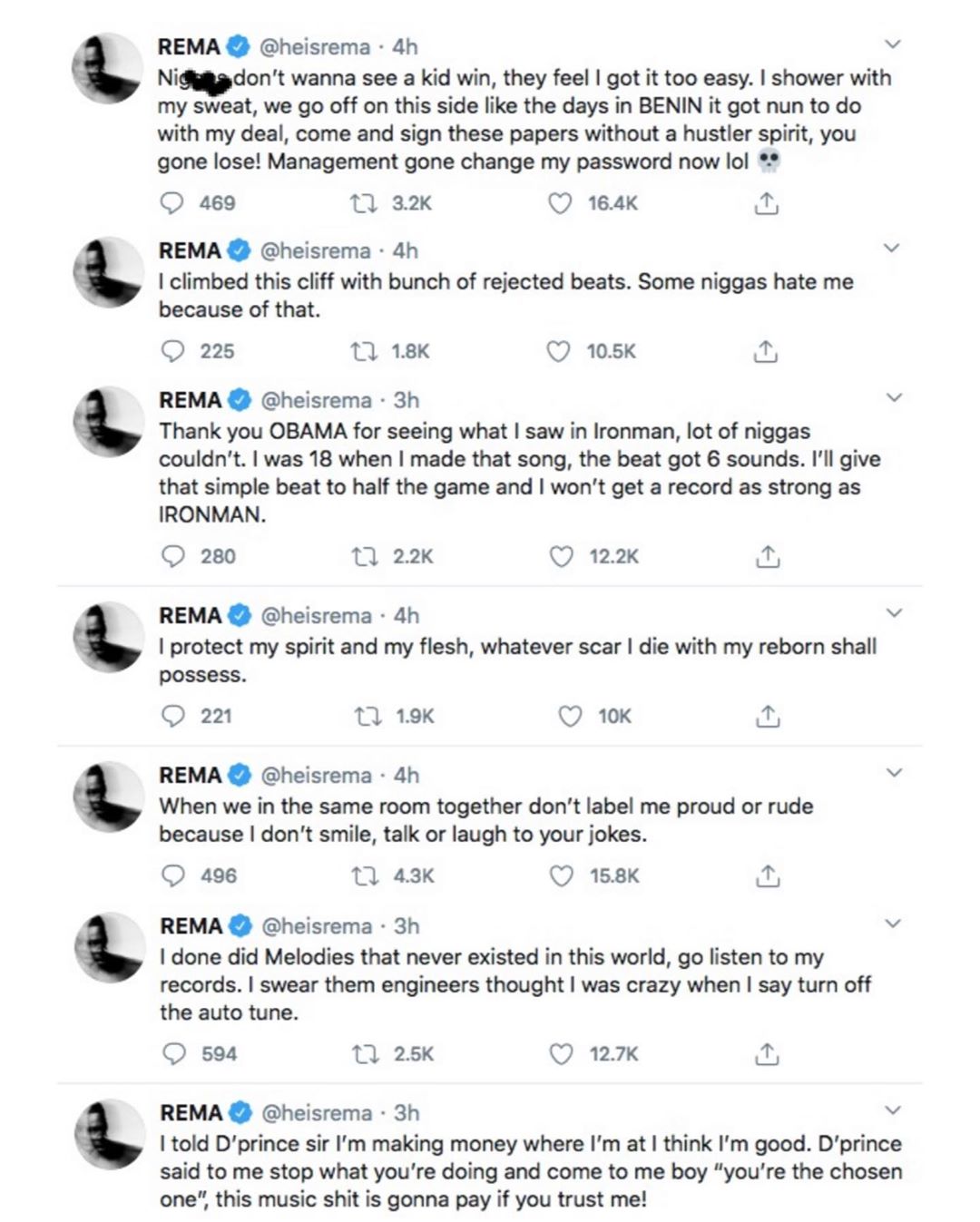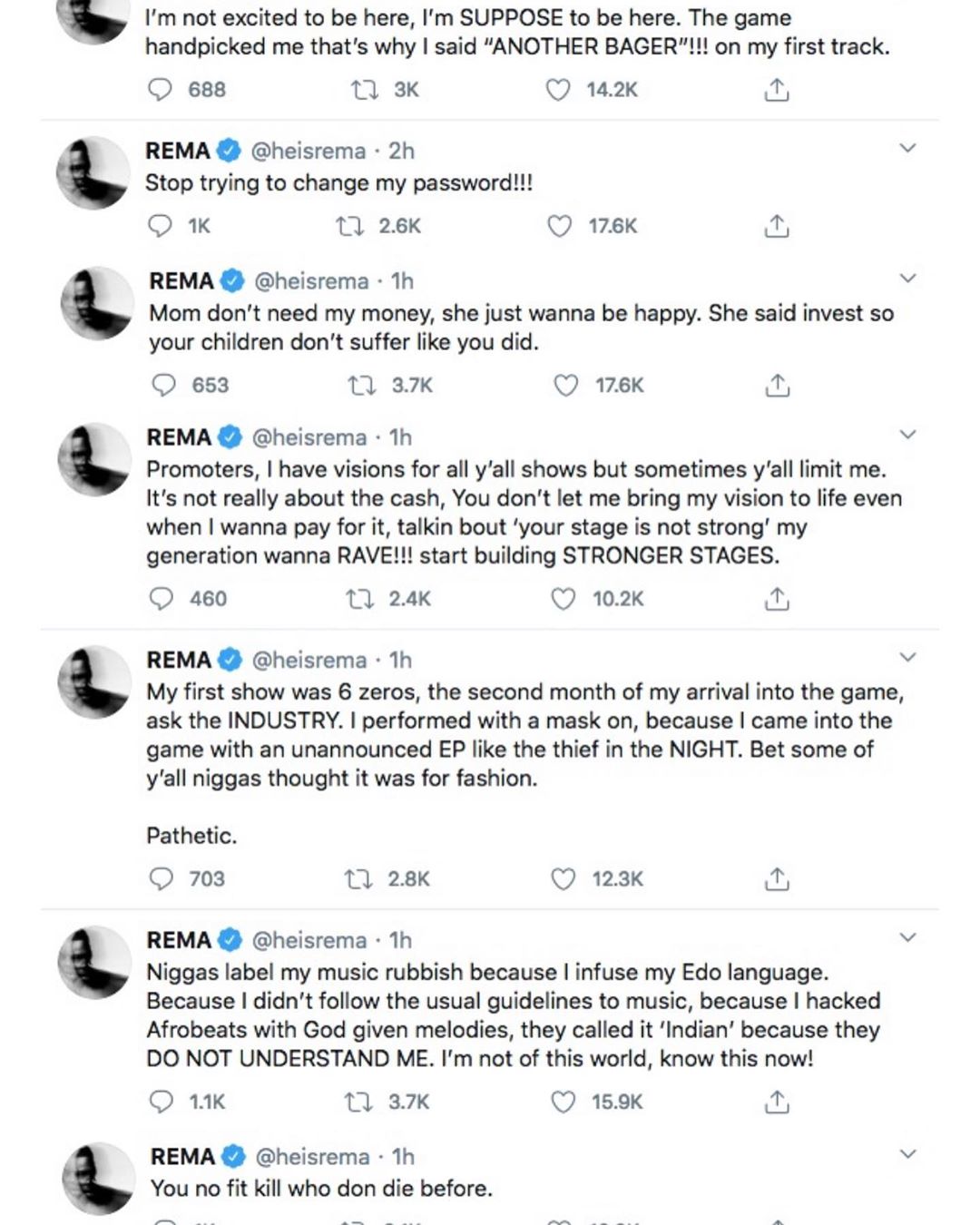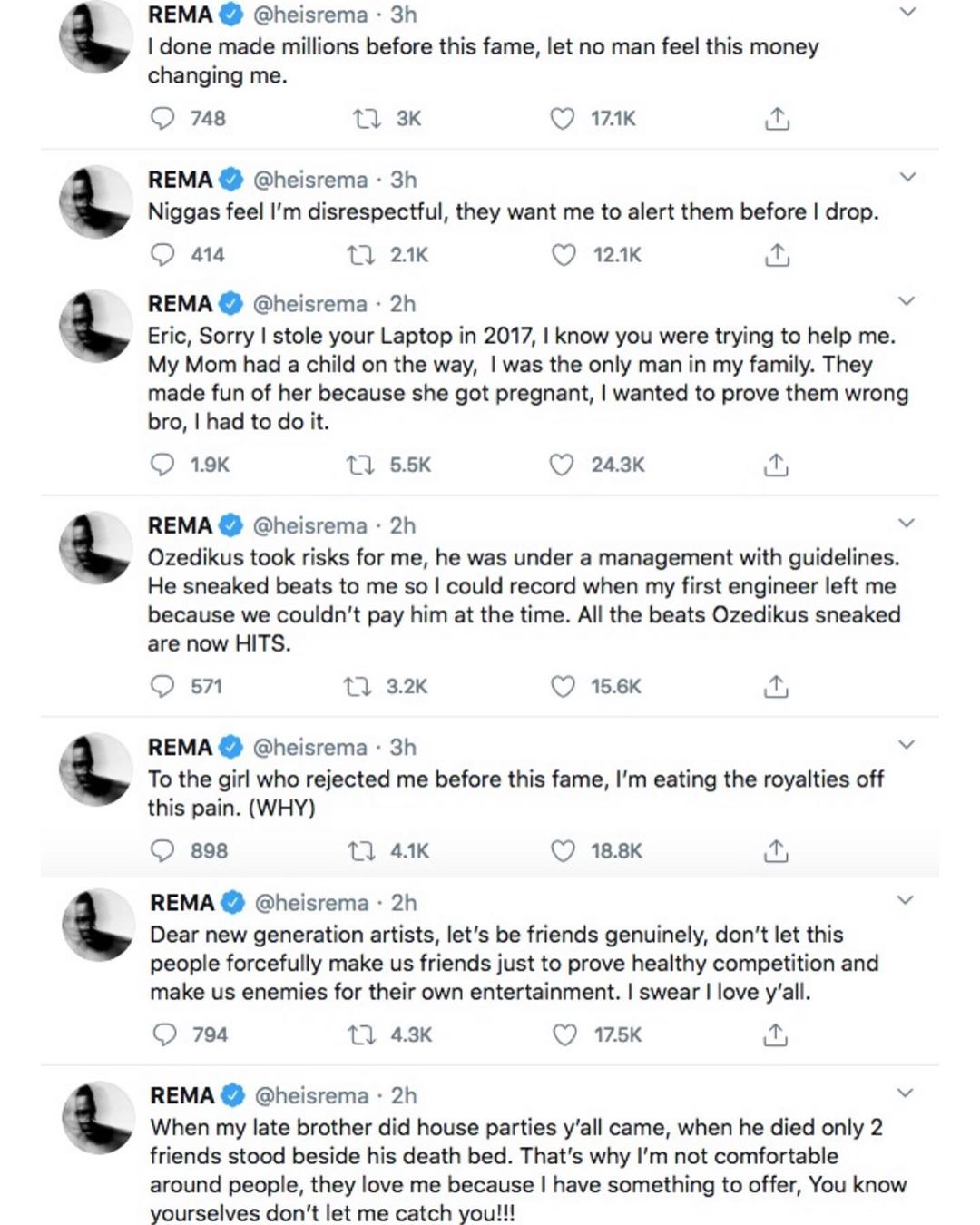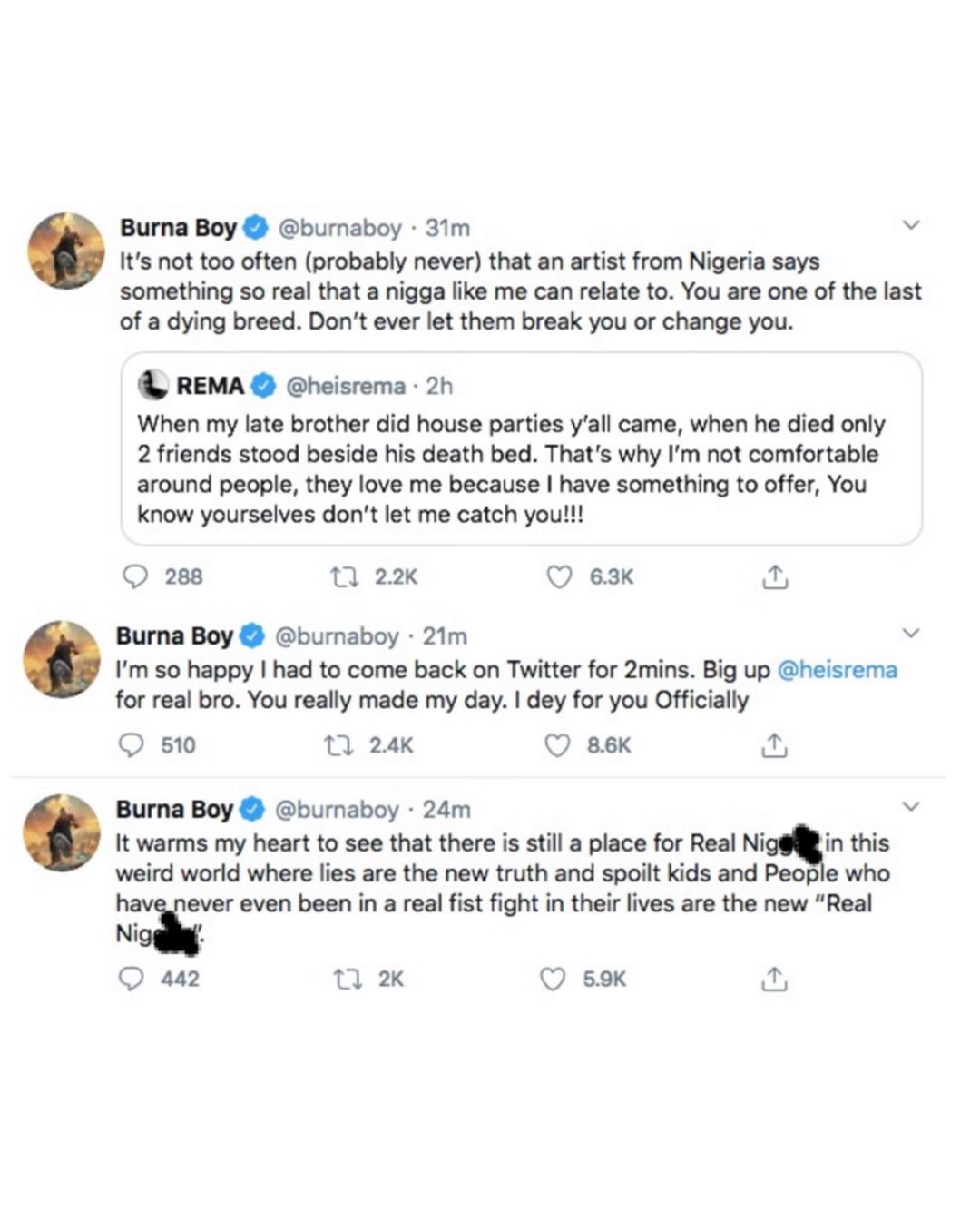 A breakdown of what Rema tweeted
He also tweeted saying, "Dear new generation artists, let's be friends genuinely, don't let this people forcefully make us friends just to prove healthy competition and make us enemies for their own entertainment. I swear I love y'all."
This statement is urging artist like Fireboy, Joeboy, Oxlade, Omah Lay, Crayon and more to be friends with each other. This is an important part of the conversation. As Nigeria attempts to build an industry and as we are growing fast, we need more unity than division.
Elsewhere, he addressed critics of his music style: "Niggas label my music rubbish because I infuse my Edo language. Because I didn't follow the usual guidelines to music, because I hacked Afrobeats with God given melodies, they called it 'Indian' because they DO NOT UNDERSTAND ME. I'm not of this world, know this now!"
Rema thanked Obama for "seeing what I saw in Ironman" adding that a lot of people "couldn't". He revealed that he was 18 years old when he made the song whose beat has "6 sounds." Rema bragged that he will give "that simple beat" to half of the industry and he wouldn't get a record "as strong as IRONMAN".
"Ni**as feel I'm disrespectful, they want me to alert them before I drop," Rema tweeted. Adding that he had made millions before the fame. "Let no man feel this money changing me."
The "Dumebi" singer was discovered by Don Jazzy's biological brother, D'Prince, who told him he was the "chosen one".
"I told D'prince sir I'm making money where I'm at I think I'm good. D'prince said to me stop what you're doing and come to me boy 'you're the chosen one', this music shit is gonna pay if you trust me!
"I done did Melodies that never existed in this world, go listen to my records. I swear them engineers thought I was crazy when I say turn off the auto tune."
He took a shot at an unnamed girl who had rejected him before he became famous: "To the girl who rejected me before this fame, I'm eating the royalties off this pain. (WHY)"
"Ozedikus took risks for me, he was under a management with guidelines. He sneaked beats to me so I could record when my first engineer left me because we couldn't pay him at the time. All the beats Ozedikus sneaked are now HITS."
Rema also revealed he stole a laptop from someone named Eric in 2017. "Eric, Sorry I stole your Laptop in 2017, I know you were trying to help me. My Mom had a child on the way, I was the only man in my family. They made fun of her because she got pregnant, I wanted to prove them wrong bro, I had to do it."
The "Iron Man" singer also spoke about losing his brother, saying people only love him because he has something to offer. "When my late brother did house parties y'all came when he died only 2 friends stood beside his death bed. That's why I'm not comfortable around people, they love me because I have something to offer, You know yourselves don't let me catch you!!!"
Doris
Doris Godwin is a versatile writer, a blogger and a relationship counselor. She is the CEO of hotsteppers.com.ng. she is also the CEO of Hotsteppers designs and collectibles,a fashion and lifestyle outfit.
Related posts